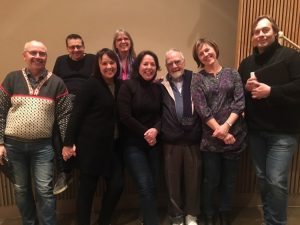 In honour of Kenneth Wentworth (1927 – 2020)
It is with great sorrow we now realize that the tour we had this year, 2020, was our last meeting with Kenneth. This time he also came to listen to us, and again we had a nice time after the concert.
In 2001 Nordic Voices met Kenneth Wentworth for the first time. Nordic had been singing together for about 4 years and we were struggling to get a lot of contacts abroad. Kenneth was the first person to believe in Nordic Voices as an international group and it completely changed everything for us. His warm personality always made us feel good, and the fact that he – a man is well known in this business – took us in among all his famous artists, made us believe even more in ourselves. Kenneth always came to our concerts when he could and every time we had a nice meeting afterwards. He would give us his honest meaning and good advice for the future and he always showed us trust and respect.
He truly is in all our hearts, and we will miss him dearly.